Leadership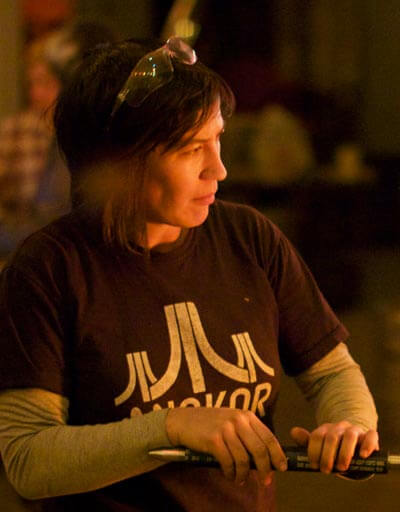 Pearl Dick
Artistic Director
Pearl Dick is the Artistic Director of Firebird Community Arts, a renowned glassworks artist and also the co-creator of Project FIRE. After years of making art around the country, she relocated to Chicago to work with our community. Pearl can often be found in the hot shop, with her dog Petey, helping students bring life to the shapes that lurk on the edges of their imagination.
Prior to moving to Chicago, Pearl graduated from Alfred University School of Art and Design, in New York, where she concentrated on glass art and oil painting. This laid the foundation for the rest of her career, which ultimately took flight in Portland, Oregon, where she became a storied member of the art scene due to her glass works. Today, Pearl's glass works can be found in private collections nationwide as well as on public display locally in locations such as the Hyde Park Art Center.
After relocating to Chicago a decade ago, Pearl co-created Project FIRE in 2014 in an effort to use art to help heal Chicagoans who were injured by violence. Since then the program has grown exponentially as Pearl cultivated and honed her skills in connecting the meditative healing aspects of glass blowing with people who can most benefit from this physical yet therapeutic practice. She is also involved in managing internship programs for glassblowing through the Roycemore School, the Northshore Country Day School and the School of the Art Institute.