Showing Our Work
Black Lives Matter
No amount of property is worth more than a single Black life.
This country, our city, and our organization are built by and dependent on Black and Brown peoples.
At Firebird Community Arts, we are struggling along with everyone else about how to think about change. We are discussing our contradictory feelings. We are all shifting wildly between rage, worry, hope, fear, desperation, anxiety, camaraderie.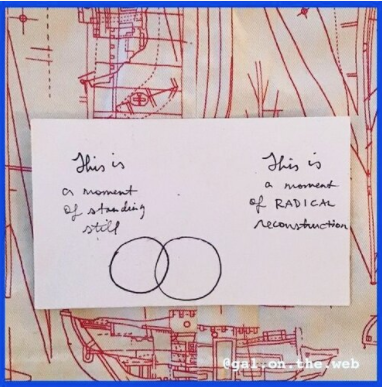 We have been talking in ways that are captured by vent diagrams (yes vent, not Venn, click link for more info) a useful tool that lets one see the overlap between two true but contradictory statements and feelings. This is a moment of standing still. This is a moment of RADICAL reconstruction. Where is the space between? What can we try to change from that overlap? Where are the "tiny windows for building unity and power, emotional releases of stale binary thinking in order to open up a trickle of fresh ideas and air."
We want you to hear from our young people who have lived their lives on the front lines-- of street violence, of state violence, of covid, and now of our country's most recent riots. They have a lot to vent. They are living between a lot of contradictions:
Riots are understandable. Riots hurt people.
Downtown doesn't matter, but save the 'hoods. Downtown is a respite from the 'hood.
Looting is harm. There is nowhere for me to buy food.
I'm safer outside of my neighborhood. I'm safer inside my house.
Violence is not the answer. I have to defend myself.
We are numb in order to survive. We know this is not okay.

Read about our anti-racism action plan here.
The young people we work with are our key to opening spaces for building unity and power. Your support now will help us provide food and basic needs to our participants as it is even more difficult to get access to goods right now. Consider a sustaining monthly donation to support Firebird's arts-based approach to building connections and power.
Support West Side Mutual Aid here.
The other key is to ACT in any and every capacity that you can, including going to protests, as well as:
💸 Donate to a BAIL FUND Here is Chicago's , Other Bail Funds
💰 DONATE directly to frontline people and organizations such as Black Lives Matter Chicago, Black Visions Collective, Campaign Zero, Brave Space Alliance, Assata's Daughter's, Greater Chicago Food Depository, Chicago Freedom School
💊 Donate MEDICAL SUPPLIES to people working as medics at the protests
🥩 FEED PEOPLE - buy food and water, or make food, and donate it to those who are part of or affected by the protests. Support efforts like Sauce and Bread's, Healthy Hood Chicago, Getting Grown Collective, Brave Space Alliance, COVID-19 Community Care, Experimental Station Market Box, Feed The People CHI, Emergency Food Delivery
🥛 VOLUNTEER at non-hot zone areas to supply food and water
📢 Continue to EDUCATE the people around you - this is also emotional labor Social Justice Resources for Children, 10-Steps to Non-Optical Allyship, 75 Things White People Can Do For Racial Justice
🚗 PICK UP people from the hot-zone if they need it
🐥 Offer to WATCH KIDS if their parents are organizers and need to be on the frontline
🚨 CONFRONT RACISM wherever you see it, online and with family/friends
📲 SHARE LINKS to every resource for protestors you can find - bail funds, information for those arrested, safety precautions, updates for those in your area, etc. How to Blur Protest Photos
🖋 WRITE articles and blog posts in support of the ongoing protests
📣 ORGANIZE on your jobs and in your communities for fair and equitable practices like the Civilian Police Accountability Council
🛌 REST is revolutionary and inherently anti-capitalist too, so do your best to rest when you can, and take care of yourself and those around you as much as possible. Follow and support @thenapministry
Want more? Comprehensive list of links.