In-School Residencies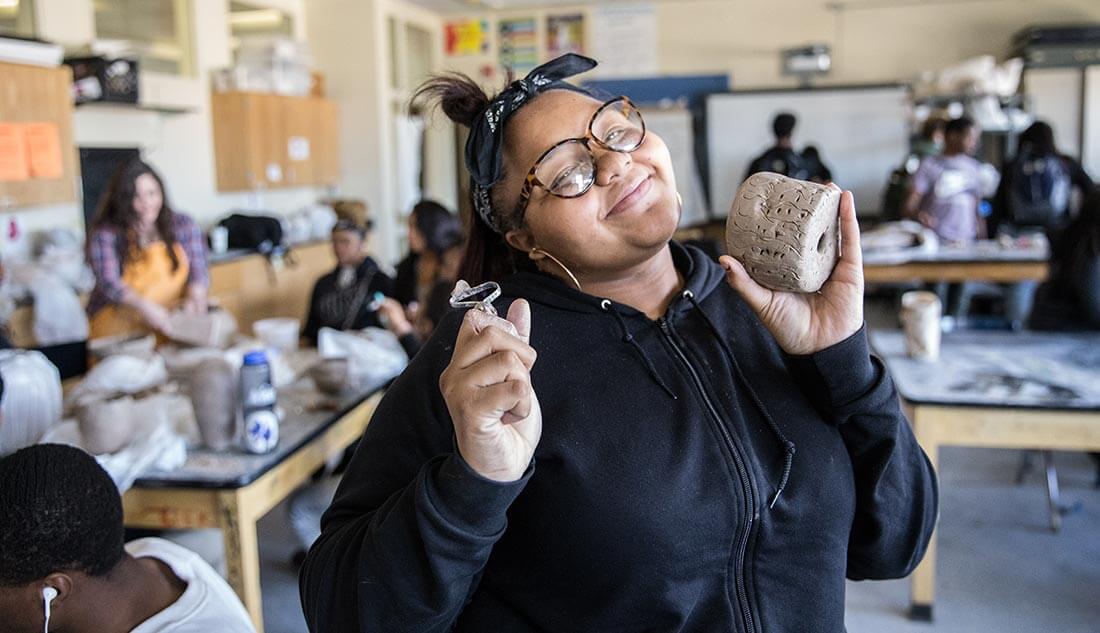 In-School Residencies are mobile four to ten week-programs where we send Teaching Artists to your school to help students explore basic skills in a selected medium while introducing elements and principles of art, historical context and examples, as well as affective art-making skills of sharing, collaboration, and critique. Each residency connects artmaking with a culturally-relevant topic.
For example, at Ida B. Wells Elementary, students created ceramic mosaic panels that explored community mapping through cultural cues from their neighborhood including transportation, architecture and jazz.
At Rogers Elementary, students referenced Civil Rights, World War II and Vietnam War imagery to create contemporary protest posters under the guiding question, "How can mark making and the history of printmaking be a tool for expressing protest?"
At Smyth Elementary, students explored solutions to complex social and environmental problems via futurist inventions in clay.
At Telpochcalli Elementary, students made over 400 ceramic plates, bowls, and cups to gift to and serve their school and neighborhood community. Functional ceramics had colorful cultural images screen printed on them by students prior to firing.
CPS schools can explore options for funding with Ingenuity's Creative School Fun Grants.
Firebird Community Arts has a CPS vendor number (42941) and are authorized to work with CPS students.
Since 2016, we have served 2000+ CPS students in over 20 neighborhood schools.